Debrigarh Wildlife Sanctuary
Debrigarh Nature Camp nestled on the bank of Hirakud Dam and Reservoir (743 Sq.Km) is inside the famous Debrigarh Wildlife Sanctuary. Debrigarh Sanctuary is popular for having healthy population of wild animals and easy sighting of wildlife by the visitors. Debrigarh Nature Camp is 40 Km away from Sambalpur Town approachable from Hirakud and Burla township through right dyke of Dam.
Debrigarh Sanctuary spreading over 347 Sq Kms is an excellent habitat for Leopard, Bison, Sambar, Elephants, Wild Boar, Chital, Chousingha, Wild Dog, Porcupine, Nilgai etc and being flanked by the Hirakud Reservoir (right dyke of Hirakud Dam) attracts thousands of birds to the landscape. Eco-tourists can see variety of wild animals while trekking by foot or by vehicle on the forest road from Dhodrokusum to Chourasimal (20 Kms) all along the reservoir and large groups of Bisons are commonly seen here. The sanctuary is home to more than 40 species of mammals, 234 species of birds, 41 species of reptiles, 12 species of amphibians, 42 species of fishes, 39 species of odonates, 85 species of butterflies and is important Internationally because of significant population of Leopard, Bison and Chousingha. The sanctuary is also famous for its beautiful landscape and magnificent waterfalls.
Debrigarh Nature Camp has 13 nos of luxury rooms with all modern facilities. All the rooms are well furnished and are with classy furnishings to make night stay comfortable. The beautiful view of the Hirakud Reservoir from the room adds to the indulgence making the Nature Camp an ideal holiday gateway. Hirakud reservoir/Lake is the largest manmade reservoir of India spreading over 743 Sq.Km. All the accommodations in the Nature Camp are Lake facing. At night often wild animals visit the backyard of the Camp foraging all through.
Hirakud Cruise:
Hirakud Cruise gives you the chance to be in awe of Debrigarh again. Take a tour of the sprawling Hirakud lake (the largest reservoir of India) and the islands within during sun rise and sun set with our Eco-guides. The lake is surrounded by Debrigarh Sanctuary which is myriad of mountains ranges with peaks & green valleys filled with varied of wild animals. The Cruise ride offers the chance to sight and experience the animal world when they slowly start moving to the Lake with their herds during dawn and dusk. With binoculars on a silent watch of this picture adds value to your expedition.
Island Odyssey:
Hirakud Nature Camp gives you an opportunity to visit the tropical islands of Hirakud lake by Hirakud Cruise. Visit the "Island of Bats" with binoculars and camera, which is conserved by the local fishermen communities of Debrigarh Sanctuary. Also be the guest of fishermen families who are earning their livelihood from Debrigarh Eco-tourism and relish different simple fish cuisine and recipes prepared by them.
Package Booking - Debrigarh on Wheels, Hirakud Cruise & Island Odyssey ::
Debrigarh on Wheels : The whole safari timing will be of 5 hours duration. Jawahar Minar–Jawahar Minar situated on Hirakud Dam is 64 feet height. One can have the view of Hirakud Dam(Longest dam in the World), Hirakud Reservoir (Largest artificial lake of the Asia) and Debrigarh Sanctuary from this. Sambalpur Zoo(WACC) – The Wild Animal Conservation Centre(WACC) is a state-of-art zoo with a unique collection of animals and birds. The zoo's main attraction are Leopard, Bear, Aviary and other animal like Chowsingha, Spotted Deer, Sambar etc. Sambalpuri Handloom – The traditional handwoven Sambalpuri handloom has made its identity every where around the world. The variations in the handlooms Pasapali/Iket/Bomkai/Barpalietcare in high demand throughout the world. Samaleswari Temple –Shree Samaleswari goddess, divine and known as goddess of strength is worshiped since ancient times.
HirakudCruise & Island Odyssey ( Package -1) – The visitor can travel from Zeropoint (the Entry point of Debrigarh Sanctuary) to Debrigarh Nature Camp by Jungle Safari vehicle and from their will cruise by boat to Bat Island and Sunset Island then back to Zeropoint. The entire safari and cruise time will be 3 hours approx. Snacks(Charcoal grilled fish etc) and tea is complementary at Bat Island served by the local fishermen community. What to see – Animal sighting during safari. The Bat Island is home to more than one thousand Indian Flying Fox(one of the largest bats in the world). Visitors can see them roosting in treetops. The view of Sun setting on Debrigarh Sanctuary is heart warming from Sunset Island.
HirakudCruise&Island Odyssey( Package -2) – Beside package – 1, the visitors availing package -2 can cruise upto Cattle Island. Visitors can see cattles on the Island which are wild in behavior.
Debrigarh on Wheels is available for both - night stay visitors of Debrigarh Nature Camp and day visitors.
-- Hirakud Cruise and Island Odyssey - Package 1 & Package 2 are available day visitors.
-- HirakudCruise & Island Odyssey Package 3: is available only for Night stay visitors of Debrigarh Nature Camp.
-- For Detail Tariff and Offline Booking of above 3 packages, contact Site Manager .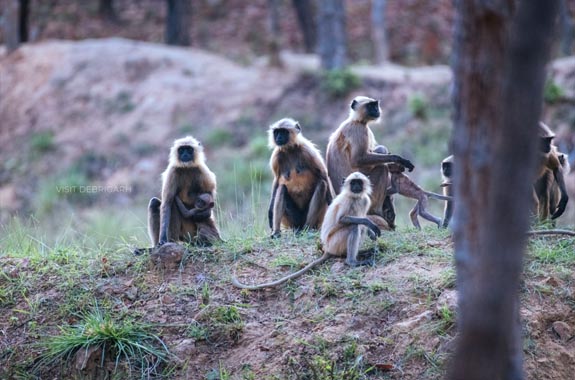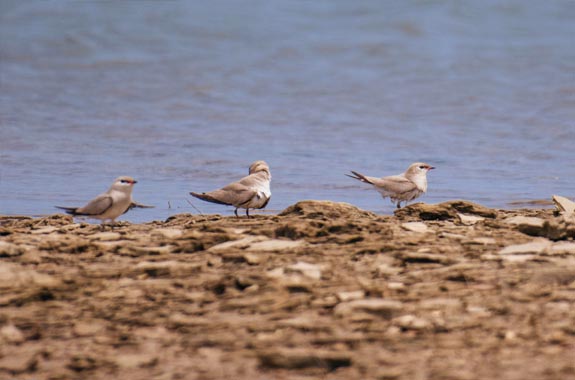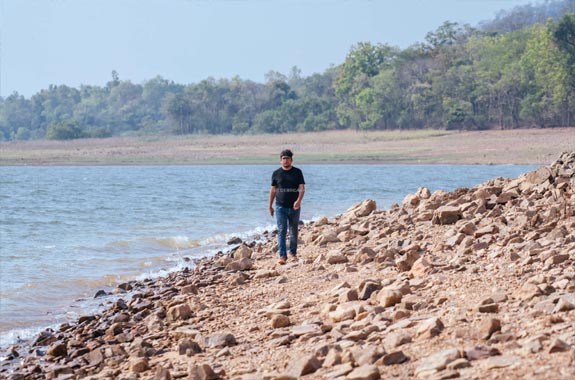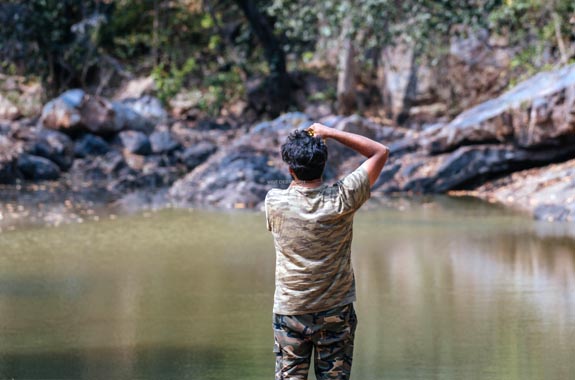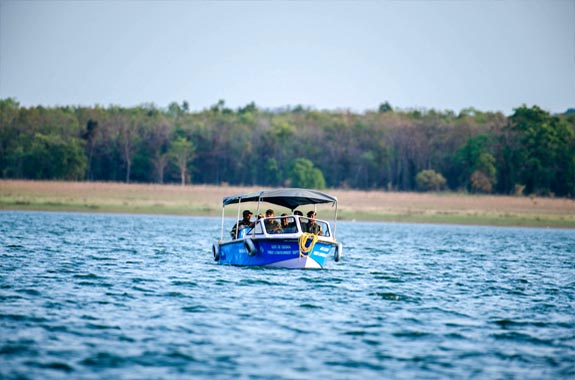 Open Jeep Jungle Safari