Khandadhar Nature Camp
The Nature Camp located at Khandadhar famous for Khandadhar waterfalls is situated amidst lush green surroundings of Khandadhar hills. The magnificent water fall originates from upper Khandadhar hills and falls down from an amazing height of about 244 Mt. Its wide range of flora and fauna is the main attraction for eco-tourists, students, researchers and visitors who throng to this place all around the year. There is ample scope for study and research at Khandadhar Eco-tourism site, which also serves as a favourable destination for wildlife writers and photographers. It is located in Khandadhar PRF near village Ladapani, 19 Km from Bonai, 80 Km from Rourkela, and 160 Km from Sundargarh.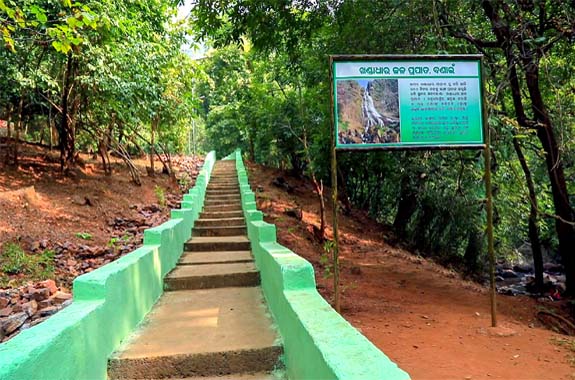 Facilities available at Khandadhar :
-- 668 steps with retaining wall from foot hill up to the water fall.
-- Beautiful landscapes.
-- Children's park with playing equipment.
-- Foot tracks with ornamental plants, Lawns.
-- Cycling
-- Trekking
-- Camp Fire
-- 60 No of Picnic Platforms under 15 trees.
-- 26 decorative masonry benches.
-- Beautiful RR filter check dam.
-- Solar powered street lights.
-- Vehicle parking, security arrangement and first-aid facility.
-- Nature Camp with 10 luxuriously furnished AC rooms.
--Driver Rest Shed .
Entry Gate
Picnic Spot
Steps To The Waterfall
Premises Of Eco Cottage
Camp Fire Infront of Cottage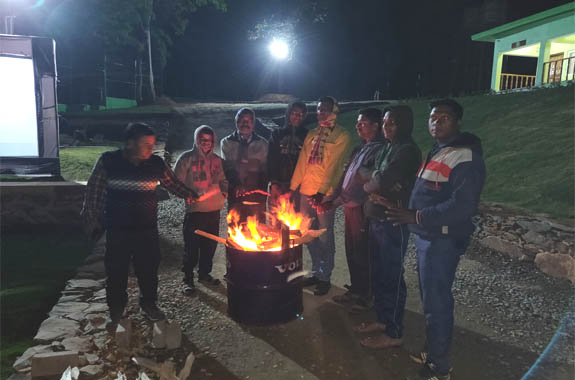 Tribal Dance at Evening