Blackbuck Herd
Imagine large tracts of Grasslands on the foothills of undulating hills with herds of graceful Blackbucks fleeing in a jumping gallop with short dashes making clucking noises. The Chermeria Nature Camp, Saluapalli Nature Camp and Bhanjanagar Nature Camp are the three destinations which offers its visitors an escape from the confines of the city life into the magnificent landscape of Blackbucks. Those Golden Deer's in large herds hypnotize the spectators by their spectacular lyrical movement and limitless energy. The Bhetnoi-Balipadar – Tanarda – Ramanda landscape accommodates nearly 2500 Blackbucks, 40 to 50 Blackbucks in one herd can be seen foraging and springing. The herd mostly have one ''alpha male'' with rest females. As they mate throughout the year, visitors can easily witness their interesting mating behaviour in which males adopt ''Lekking'' as a strategy to garner females. Fight between Blackbucks locking their Cork-Screw horns is a sight worth seeing.
Young & Adult Male Blackbuck
Peacock
Not only Blackbucks, here nature lovers can soak in the pleasure of watching hundreds of peacocks all along the landscape. Breezes blowing up into the grasslands adjoining hills as far as your eyes can see and the mesmerising starry sky of night alongwith a luxurious stay in the Blackbuck Nature Camps give a unique experience of life. The friendly service by the management group of local community and local/ Indian delicacy served by them is a bonus. In Odisha, other than the landscape of Blackbuck Nature Camps you can see Blackbucks in Konark-Balukhand Sanctuary (Puri).
Blackbuck Fight
Blackbuck Lekking
Package :- View of Blackbucks(the 2nd fastest animal in world after Cheetah/speed 70 Kmph) and peacocks/camping/birding/trekking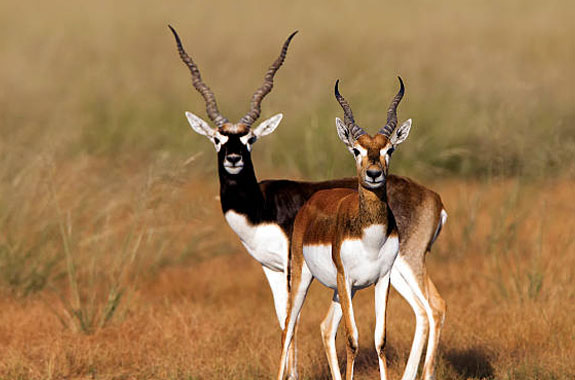 Chermaria Nature Camp

Saluapalli Nature Camp
Bhanjanagar-Dam Nature Camp.