MANGALAJODI NATURE CAMP - "Night Stay in the Birding Hotspot of Asia"
Mangalajodi, "The Birds Paradise of Asia" is in the North Eastern Part of Chilika Lagoon. Millions of migratory Birds congregate during different parts of the year here. Winter witnesses the highest gathering of around 4 to 5 Lakhs resident and migratory birds. It is the only place in India where large flocks of different species of colourful birds can be seen from close proximity of boat. This is not only the place for birders but also a Photographers paradise in Asia. More than 200 species of birds are recorded in Mangalajodi during winters. Lakhs of Ruffs, Godwits, Terns, Plovers, Sandpipers, rare Grey-headed Lapwings, Gulls, Pintails, Ruddy Shelducks, Skulkers like Ruddy-breasted Crakes, Baillon's Crakes, Slaty-breasted Rails and the Greater Painted Snipes ,Black-tailed Godwits, Oriental Pratincoles and the Pacific Golden Plovers etc. Variety of Raptors are also seen hunting in different parts of Mangalajodi. Listen to different voices of different birds all around you, sometimes in chorus and sometimes simple exchange of language in form of Calls, Quacks, Chirps, Whistles, mimics & trills that echoes different stories of communication among them.
Enjoy the panoramic view of Mangalajodi from the 12 luxury(AC) cottages of Mangalajodi Nature Camp on hill slope. The Nature Camp offers spectacular view of Mangalajodi and lakhs of birds flocking all around the sky can be seen from the Nature Camp. The magical Sunrise and Sunset on the horizons of the blue Lagoon can be best viewed from the cottages. Food is included in accommodation price and best local delicacies are prepared in traditional manner by the local communities. After a day full of sighting different colors of birds from different continents of World here, enjoy evening cup of tea in the Nature Camp viewing the picturesque lagoon & wetland.
-- Birding with Ecoguides from Mangalajodi Village who are now protectors of the birds' area and were poachers' decades back. Listen to their transforming journey of "Poachers turned Protectors".
-- Trekking, Boating, Photography etc.
Distance
Mangalajodi is a popular place in Khurda district. 75 Km from State Capital Bhubaneswar towards Berhampur on NH (1hr.15 minutes drive). Mangalajodi is connected by 4 lane NH and 6 Km motorable road.
Irrawaddy Dolphin
RAJHANS NATURE CAMP
Stay within Lake Chilika : Rajhans Nature Camp
Rajhans Island is a stretch of land separating the majestic Chilika lake from the Bay of Bengal Sea. Rajhans Nature Camp with Ten lake-facing luxurious tented accommodations(Swiss Cottage Tents with attached sophisticated toilets) is on Rajhans Island with Chilika lake on one side and Bay of Bengal on the other side. The nature camp is a perfect gateway for tourists who are looking for a stay in the wilderness of nature or a beach holiday or both. The nature camp is 45 minutes boat ride from Satpada (Satpada is 50 Kms of distance from Puri by road & 110 Kms distance from Bhubaneswar by road.). During the 45 minutes boat ride to Rajhans you can see groups of Dolphins diving & swimming up and down in the lake, a memorable watch by all tourists visiting Rajhans Nature Camp. Chilika lake hosts the highest global inland population of Irrawaddy Dolphins, currently the dolphin population in the lake is about 150. A 300 mtrs morning and evening walk from Chilika lake upto the Sea offers the visitor a whirl of new experiences and memories. Sports (Badminton, Volley) and Birding soaks your day with adventure and freshness. From thrills to solitude, away from the hustle of life, Rajhans Nature Camp is a perfect destination for beach lovers to forest travellers. From the nature camp through the Casuarinas forests on Island, you can see the Sun rising slowly on the east and in the evening after the sun set the view of glittering stars and the milky way is another incredible experience for the visitors. Whether you are looking for a vacation with family or friends or a day out in the wilderness, Rajhans nature camp is the place for you.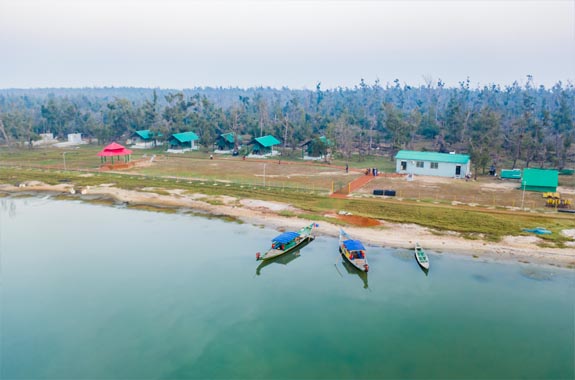 BERHAMPURA NATURE CAMP
Chilika lake is a natural brackish water lagoon of marine origin spreading over an area of about 1100 km² in Puri, Khordha and Ganjam Districts of Odisha on the east coast of India. It is the largest coastal lagoon in India.
Chilika is the largest wintering ground for migratory birds on the Indian sub-continent which witnesses a fascinating global carnival of winged guests every year. It is also home to a number of threatened species of plants and animals.
The lagoon has been an important habitat for Irrawaddy dolphins. The current population of Chilika, about 150, is a globally significant population as it is considered a the highest inland population.
Birding
Among the wetlands of India, Chilika occupies a place of pride being the first Indian wetland declared as "Wetland of International Importance" in 1981 under IUCN sponsored Ramsar Convention due to manifestation of unique characteristics as shown by the fact that:
-- Over a million migratory waterfowl and shore birds winter here and more than 1% of bio-geographical population in respect of 45 species recorded in Chilika.
-- The lagoon serves as an important stopover in central Asian flyway.
-- Over 400 vertebrate species have been recorded.
-- The lagoon supports a unique assemblage of freshwater, brackish water and marine organisms.
-- Several rare and endangered species are recorded in the region.
-- The lagoon supports indigenous fisheries contributing to the livelihood of the communities and the lagoon plays great role in preserving genetic diversity.
Chilika lake has been declared as "Destination Flyway" by the United Nation's World tourism Organisation (UNWTO) because of its natural treasure and bio-diversity.
Boating
Walk On The Beach
Trip To Sea Mouth
Sports